Carville Mill Skatepark
The Carville Mill Skatepark is a 200 sqm/2100 sqft skateboard spot in Toronto Canada. The skatepark footprint is extremely small. A park this size presents a challenge to the designer. I was glad to make this design.
The challenge was to figure out how to get enough runway to skate in such a small area. My solution was to create a looping path with a skateable sculpture.
The path form uses less area and gives you the runway you need to setup and land skateboard tricks. By using it I was able to stretch out the length and make it very skateable. I was able to fit in a full halfpipe with a spine, roller bump and hip to transfer. A street area that has ledges, rails and even two hubba sets.
My design was placed at the central hub of the city park. Making it a visual element of the entire park.
The overall view: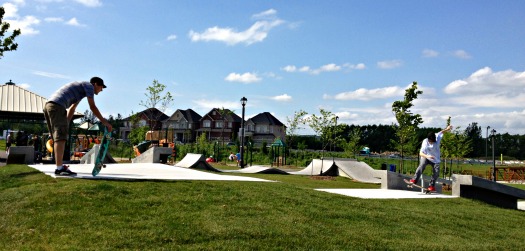 Some hubbas and street stuff:
I got down and dirty spending a few days on site. Setting rebar and pouring concrete. The builders were experienced and hard working. It was a great experience to work with them on this project. They did such a good job finishing. Even with the worst concrete. They made it awesome. Thanks Scott and Rich and the rest of the crew! Your hard work is what made this park work.
The street area has a flat rail, manual pad, ledge and two stair set complete with hubba ledges and hand rails. Plus a special feature that combines a street rail and a slashing quarterpipe.
This park skates awesomely. 2 or 3 skaters can use it all at the same time. That means they won't have to wait for their turn when it is busy.

Also because of the path shape you can rip all the way around from one thing to the next and them back again.
A Skatepark As Art
I made the skatepark look like a sculpture that actually works for skateboarding. My design was found to be appealing and was placed as a centerpiece of the entire city park.
I am very proud of what I designed. The Carville Mill Skatepark works when it is empty and when it is busy. It is beautiful. The CIty of Vaughan has a real gem here. The only thing it needs now is lights and a roof ;)
Return from Carville Mill Skatepark to Skateboard Parks
Return from Carville Mill Skatepark to skateboardhere homepage
---
skateboard trick list
Basic Skateboard Tricks
by Nathaniel Adie
Show your friends your skateboard skills. From stepping on a skateboard to the famous kickflip. Learn moves every time you go skateboarding.
This eBook has 71 pages of mobile formatted photos and trick tips. Specially formatted to read on mobile phones. Take this book with you. Check it for tips during your session.
pdf Edition
powered by SendOwl & stripe
USD $18.88

---