Bracebridge Skatepark
To design the Bracebridge Skatepark I worked with Spectrum Skatepark Creations. I took on a major part of the design. Spectrum did all the rest. They got the engineering and the construction pulled together. That is no small feet. Look at the excellent work that they produced.
The scope of the project was to design an 8000sqft skateboard park in a weird shaped footprint provided by the landscape architect.
The specific criteria of the design segment was were:

The skatepark must include a deep bowl area and a large street skateboarding section.

The skateboard advocacy group of Bracebridge wanted a "Bridge" like element incorporated into the design.
I produced an innovative skateboard park including the deep bowl

This cottage country skatepark has a lot of flow. You can have fun cruising around or popping into and out of tricks in long lines. The design includes a bridge like table top and gap. There are also some curving rainbow ledges to flow your grinds on.
I am really excited about the rainbow manual pad and ledge. It would be a unique feature to grind. Taking a different approach on how to do many tricks.
I had to be careful to make it curve enough to be different. But not so much that you get thrown to the ground when popping out. It is always a tricky balance. Make it good but not too gnar.
Here is the large street flow section including beginner, intermediate and advanced obstacles.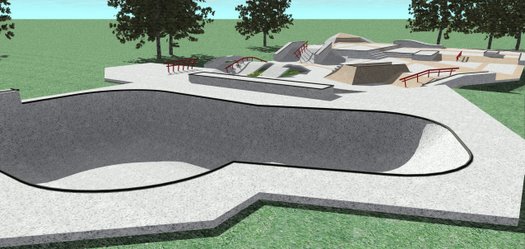 Here is the bowl section.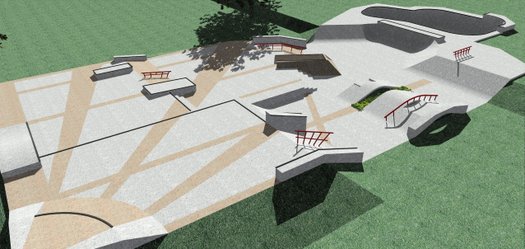 I was also able to sprinkle in three innovative elements that only Bracebridge skateboard park will have. Making this a destination park for all skateboard tourists in cottage country.
The flow of this park lets you skate up, down, around, down, up and back again. The lines link together to give you a lot of options.
This park is located up north where the weekend vacationers go. They can stop by on the way to the cottage or camp site and get their shred on.
It is a great addition to a town that might not have had much urban areas to skateboard on. I can see several talented skaters developing at a park like this.
Return from Bracebridge Skatepark to Skateboard Parks
Return from Bracebridge Skatepark to skateboardhere homepage