flip skateboards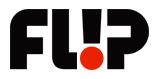 Flip skateboards
Started in 1991 as Deathbox in the UK. Flip changed it's name and moved to the US.
Flip have made great videos through the years, The Sorry series of videos. Flip has always stood for powerful good skateboarding. With big street skateboarding and transition and vert skaters too. The team has heavy hitters who are and have been the biggest in skateboarding.  It has always had international and American riders. With legends like:
Tom Penny, Atro Saari, Bob Burnquist, Rune Glifberg, Lance Mountain. Geoff Rowley was on the team from the beginning but isn't now.
Some current rippers Luan Oliveira, David Gonzalez, Curren Caples and more amazing skaters. 

Return from Flip to Skateboard Logos
Return from Flip to skateboardhere homepage