Halifax Skatepark
The Halifax Skatepark had specific design input from the local skaters. When I got involved they already had an existing skatepark and a design with a good list of obstacles to include.
The scope of the project was to create a new addition to the existing skatepark located in the Commons, the central a park in the city of Halifax Nova Scotia.
- the addition must connect with the existing skatepark
- contain a street section that contains several specific skate elements
- Contain a bowl section with an area that is 9'3"deep with 3" of vert.

After the list was complete I needed to look at the engineering side of the park. The information on soil conditions was sort of incomplete. The bed rock and lack of information played a role in how the design came together.
We needed to build up the park above the bedrock to get the deep enough bowl. At the same time the park needed to connect with the original park at the ground level. That meant that some parts on the park needed to be 10' deep while others need to meet the current ground level. We could not dig down into the ground. So I have to stitch a very deep bowl together with an existing park at 0 elevation. A difference of 10 feet.
I took all this and went to work. I made a completely new design. One that satisfied the skaters, the old park and the engineers.
The design is shown here: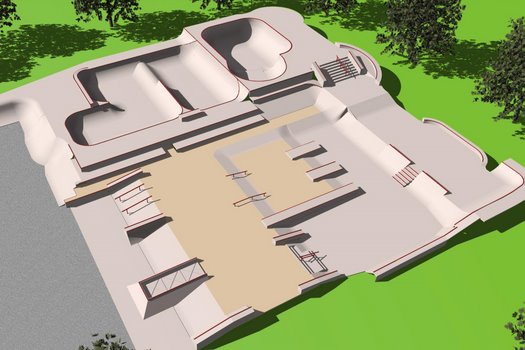 I did a site analysis:
- analyzed incomplete survey drawings and core samples
- determined that excavation could be no greater than 1 meter below grade

I then worked on the design:
- provided a large street bowl area that met all of the requested elements
- Designed to a site that had large differences in elevation from the bowl to the street park and existing park
- created unique design features that included that most current and interesting spots that the pros were skating, deemed the U-Boat" by the locals
- Created a bowl section that includes 3', 5', 6', and 9'3" depths
- separated these sections so that the deep bowl skaters and the majority of the transition skaters could bother have designated areas
- worked through a design that had almost 30 revisions when typical projects have 2 or 3

Lastly I created engineering drawings Showing the design including:
-site plan
-coping layout
-metal schedule
-sections
-construction details
-construction joint layout
-site drainage and grading
-sub drainage

Here is a view of the shallow bowl. This place is amazing to carve and enjoy the turns.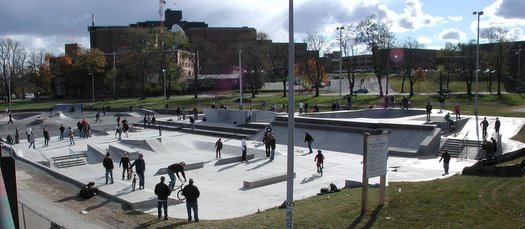 This is the park in use. Its HUGE!
I would love to get out there one day and skate this park.
This Halifax skatepark project was challenging from a design and engineering perspective. There was a great team. Spectrum Skatepark Creations as always pulled together al the needed people and everything. They made this design really work well.
Return from Halifax Skatepark to Skateboard Parks
Return from Halifax Skateparks to skateboardhere homepage