Leduc Skatepark
To build the Leduc Skatepark I was contracted by Spectrum Skatepark Creations to do the skatepark design. I cam up with a few designs. With Jim's approval on a design.
I was whisked away on a plane from Vancouver to Edmonton to do the design workshop with the local skaters. It was a pretty cool experience and I would love to do more of that type of work. After doing that fun part of the skatepark design process I was also involved and doing some technical stuff too. All told I was involved in several parts of this project. Spectrum and the architects once again pulled a great park out.
Design and Public workshops:
- I created design ideas package with photos and video. Collaborating with Spectrum Skateparks.
- I got on a plane one day to lead a design workshop with the Leduc area skaters.
- Developed a design the used pathways to create a less typical skatepark design
- Included trees and planters as skateable features
- Designed a three section multilevel bowl with oververt and many many fast lines.

That included most of the technical drawing work. I made the blue prints for the entire design.
- I created the engineering drawings including
- site plan
- site drainage and grading
- sub drainage
- skatepark plan
- skatepark sections and construction details
- created final asbuilt drawings

Here is a computer model of the design: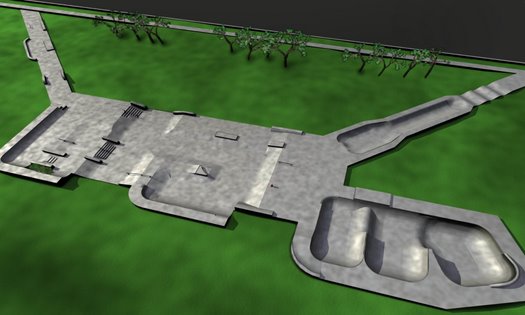 Here is the bowl: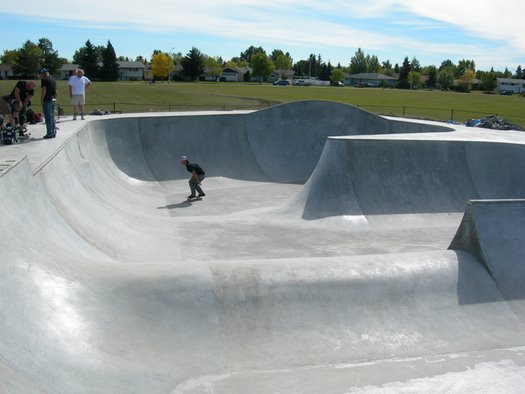 The overall park was altered a bit after I was done my work. I guess the budget didn't allow for some features. The bowl and the street path were the most important features and they were kept.
I would love to get out the Edmonton and skate this park. Maybe one day I will. I look forward to a cross Canada trip stopping at many of the skateparks I have been involved in.
Return from Leduc Skatepark to Skateboard Parks
Return from Leduc Skatepark to skateboardhere homepage