Skateboardhere.
Learn Skateboarding.
Welcome to skateboardhere. Come here to learn all about skateboarding. With tons of tricks tips!
Learn how to ollie and more at skateboardhere.com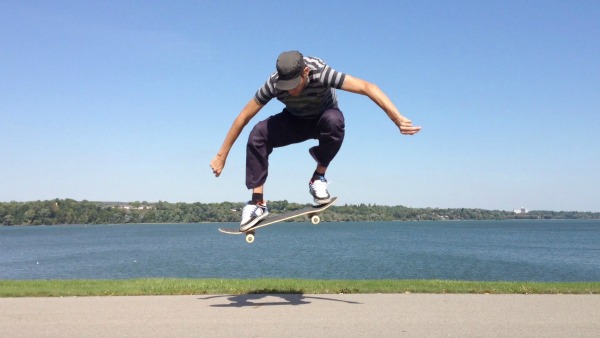 Me, the maker of skateboardhere doing an ollie.
You will learn how to skate at skateboardhere.
I discovered skateboarding in the 80's at school. It was fun at first and I skated a lot. Years later, I saw a professional skateboard video for the first time. It changed my life. I became a skateboarder from that day on.
It took me a long time to teach myself how to skate. I found it difficult to find information on how to skateboard. Now, years later I am putting all I learned together here, so you can learn how to skateboard faster.
I made skateboardhere.com to show everyone how to skateboard. From a newbie - to a seasoned skater. This website has a lot of useful info on it and I am building more all the time.

You can find info on:

How to Skateboard - How to do skateboard tricks and, trick names.
Parts and Equipment - I look at all the best decks, trucks, wheels, parts and companies. Showing what is good and what isn't.
Ramps - How to build or buy a skateboard ramps.
Skateparks - What makes good park and how to get one near you.
Culture - History and stories of what it is like to be a skateboarder.
Games - Games on your board and games for when you are off it.
News - Skateboard news and other stuff.

This website is all about skateboarding. I am having a good time doing it and I hope you have a good time reading it. 
Thanks!
Nan @ skateboardhere.com
May 14, 15 09:26 AM

Daily Skateboard News

Apr 24, 15 03:01 PM

Learn what a Kickturn is at skateboardhere.com

Apr 24, 15 03:00 PM

Learn what a Heelflip is at skateboardhere.com
Home | Contact | Skate Safe