Skateboard
Trick List
This skateboard trick list has the most popular tricks at the top. Scroll down for a full list. 
Rolling and turning are the foundations of skateboarding. Try the easy and basic skateboard tricks first. They help you to land all tricks.  When you can ride well try the ollie. That is the gateway to the top tricks.
Flip Skateboard Tricks
Fakie, nollie, late, big, bigger and with multiple flip rotations are all variation that can be added to these tricks.
Grind and Slide Skateboard Tricks
Grind/slide tricks need an edge to grind on. It can be a ledge, rail, coping, or curb.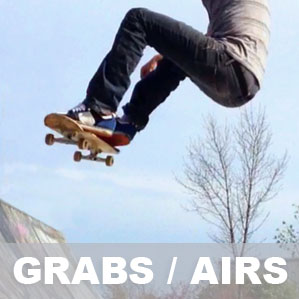 Grab and Air Skateboard Tricks
Most of these tricks can be done on a ramp or off the top of one. Some can be done on flat or down a drop.
Ramp and Footplant Skateboard tricks
These tricks are done at the top, lip or coping of a ramp.
Misc. Skateboard Trick List
There are a lot of tricks that are just random. Here are some to start with:
That's all I have for my skateboard trick list. Contact Me to improve the list.
Return from Skateboard Trick List to Skateboard Tricks
Return from Skateboard Trick List to skateboardhere homepage